An infinite stream of addictive videos on a platform with 1 billion app downloads worldwide. If you haven't heard about TikTok, odds are you're over the age of 24.

The Chinese owned platform has exploded globally and is in the process of opening its first office in Australia. TikTok allows it's predominantly young audience (41% are between the ages of 16 and 24) to share videos of up to 60 seconds and captures a gap left in the market by Vine — the now-defunct video platform bought by Twitter in 2012.
Its growth has been exponential, and since the conception of this article in July, interest in the platform has exploded with both users and brands increasingly engaging on the platform.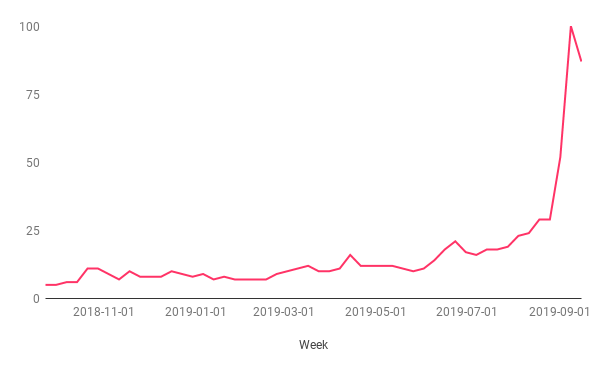 Google search trends for "TikTok"
Whilst TikTok doesn't disclose user statistics, in 2018 it was reported to have 500 million global users. In Australia and New Zealand, the platform is estimated to have 1.4 million monthly active users, with 1.6 billion video views every month. That's still a long way off the giants of Facebook and Instagram, but with 110,000 monthly searches on Google, and being the third most downloaded app globally, it's clear the platform is on an astronomical trajectory.
So, what's all the fuss about?
An addictive video experience.
The TikTok experience is an endless stream of pointless, but oddly captivating videos. A quick dip into the platform will find you 30 minutes later wondering where the time went. Pure and simple, bite-sized entertainment.
Users cycle through a near infinite collection of videos, 3 to 60 seconds long. The videos loop till the user swipes down to the next video which launches immediately.
The content covers a broad range of topics, with the most popular being:
Lip Syncing / Dancing
Cosplay
Cars
Extreme Sports
Travel & Tourism
Tricks / Talents
Food / Cooking
Animal Videos
Drawing, painting or art creation videos.
Comedy / Funny Stuff
Into this mix is also some platform manipulation content, typically of young social platforms. Typical tricks include getting users to look for hidden images by pausing the video, exporting and slowing down videos, tapping three times to see a different coloured heart (actually likes the video and follows the user). You'll also encounter some platform manipulation content, where viewers are tricked into engaging with bogus 'find the hidden item' or 'tap to find' tactics. This sort of content is typical of young social platforms and will likely be stamped out as TikTok's algorithms mature.
Finding content and trends.
Users are able to follow or browse by username, sound or tag (similar to Twitter or Instagram). This leads to some of the keys to engagement on the platform:
User Name
As you would expect, it's possible to follow or search by username, with some notable influencers building a significant following on the platform.
Sound
Unique to TikTok is the ability to follow and replicate the soundtrack used on the various videos. This leads to some of the most common trends on the platform. Many sounds are associated with particular tropes, including styles of filming, actions, or dancing.
Tag
#tags also provide another means of categorising content, with challenges or trends commonly being tagged.
These features make it easy to find and follow interesting content and also provide creators with a way of targeting trends to grow their audience.
Creators can also use duels, where two videos are shown side by side on the screen and allow creators to piggyback the success of other videos, or create videos designed for dueling.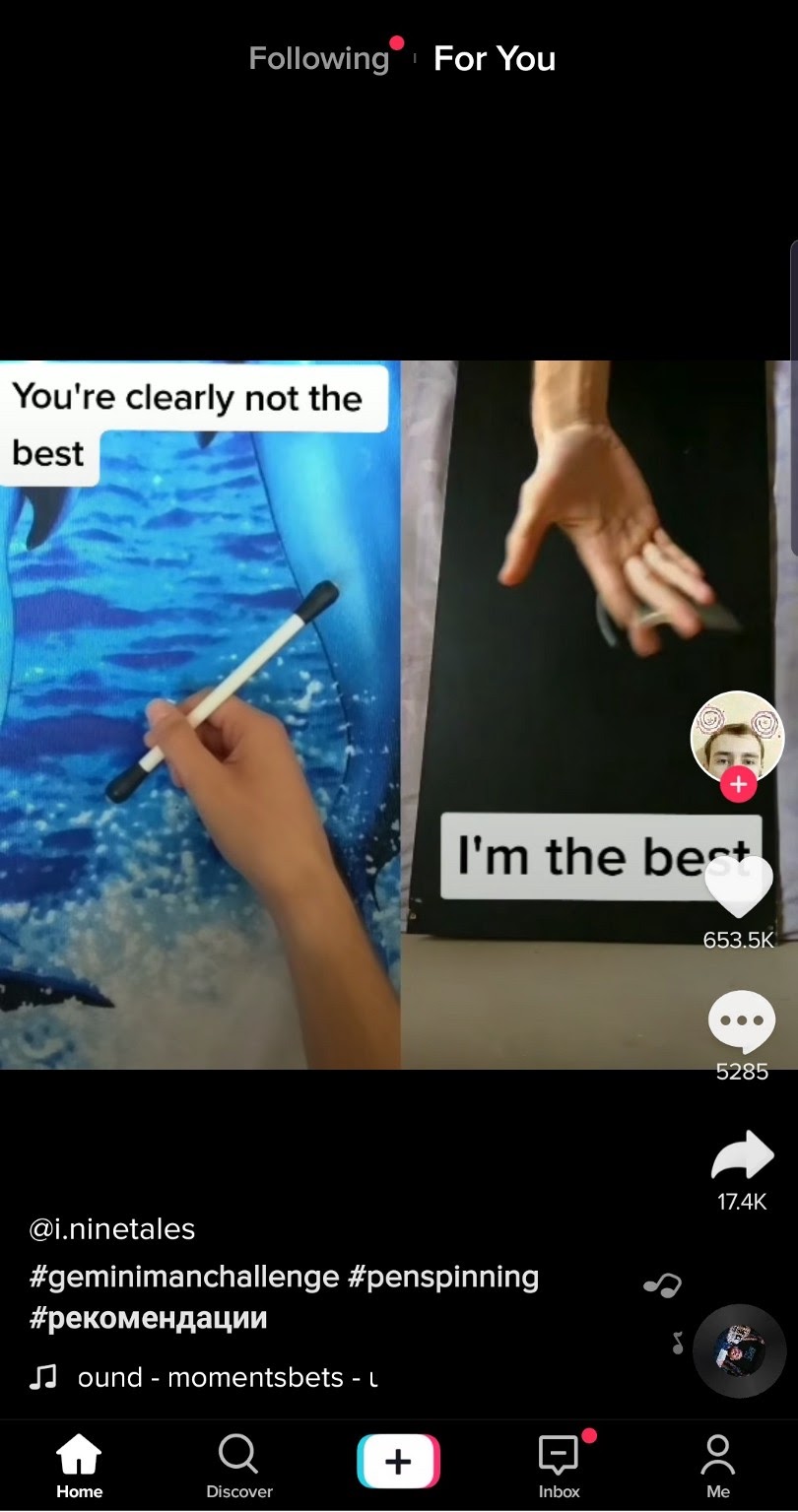 A pen spinning dual on TikTok.
Whilst these tactics provide a technical way of reaching a wider audience through trends, traditional approaches to content creation are still important. For example multipart videos and building suspense, which then requires users to click through to the creator's profile or follow them to see the next part of the series.
The platform has a number of tools for video creationng. These include Snapchat-esqe filters, text overlays, image/gif macros. These play less of a role on the platform than the quality of the content being produced but are inevitably an important feature set.
How can brands get in on the action?
The platform's exponential growth makes it an attractive proposition for brands. But TikTok isn't right for everyone, yet. The platform's audience skews young, has a low level of meaningful engagement with creators, and users are typically only looking for entertainment (not thinking about purchases). This said, we believe for the right content there is an opportunity for brands to drive significant awareness and potentially create ideas related to their product which spread.
Brands that are best suited to the platform:
Have a young audience
Engage a global market
Can have "fun" with themselves
Naturally lend themselves to content production
Are risk tolerant
Pioneer brands on the platform include global giants, H&M, Redbull, or musicians like Will.I.Am. These brands have taken advantage of the considerable organic reach which exists, creating profiles and generating content. For these brands, modifying existing content to suit the platform requires little effort, and the transition from Instagram Stories to TikTok is not a hard one, although the content on TikTok is typically more self-contained and each video has to provide immediate and standalone entertainment value for the user.
How can brands use TikTok?
There are three ways brands should look to use TikTok to promote themselves.
Brand content
At present, brands can generate significant organic reach on the platform (similar to those halcyon days of Facebook). For brands with an already capable content production process, this step is a simple one and early adopters are likely to feel the majority of the benefit.
Advertising
The platform allows both biddable and direct buy advertising in a variety of formats including sponsored content, brand takeovers, hashtag challenges, and brand lenses. Its self-serve platform appears to be some time away, and the ability of advertising on the platform is only available to whitelisted brands in a handful of countries (agencies will have to wait). Further, TikTok has followed Twitter and Facebook by launching its own audience network.
Influencers
Influencers are emerging on the platform, and appear to be relatively untapped. Typically being much younger than influencers on other platforms, and with the platform itself being relatively new, it is unlikely that these influencers will be accessible through existing networks, but maybe approachable via direct content. Brands should consider the risk involved in the process.
By Chris Butterworth, Head of Digital Product & Strategy at GrowthOps